Main content starts here, tab to start navigating
Menus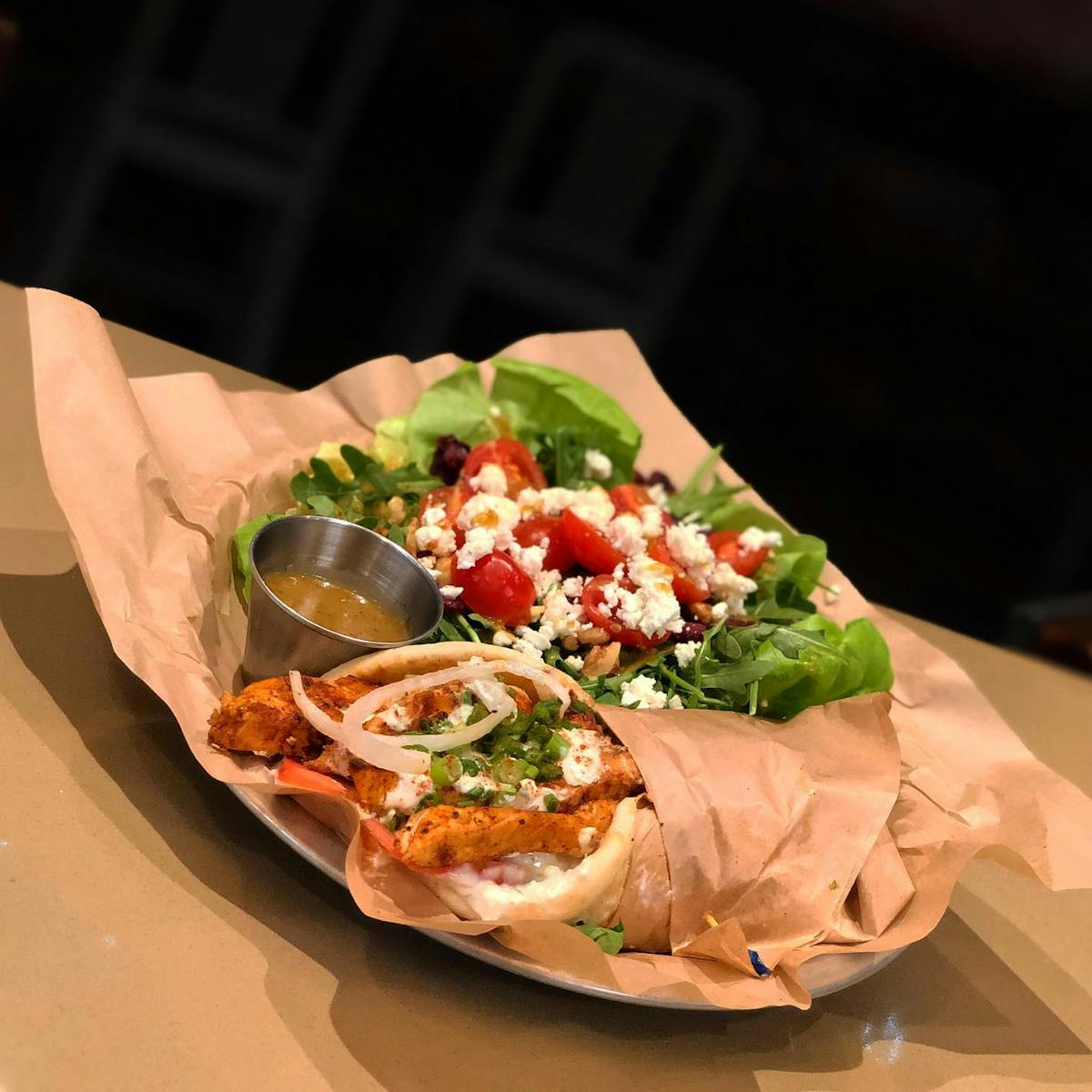 Food
Avocado Toast

Sourdough, guacamole, arugula, goat cheese, cherry tomato, balsamic

$10

BLAT

Sourdough, bacon, lettuce, avocado, tomato, garlic aioli, fries, house fry sauce

$12

Buffalo Cauliflower

Battered, citrus buffalo sauce, carrot, celery, lime crema. Vegan!

$12

Buffalo Chicken Wrap

Fried free-range chicken or garden, onion, bleu cheese, pickle, tomato, slaw

$10

Burger

Local brioche bun, local grass-fed beef, cheddar, lettuce, tomato, onion, pickles, garlic aioli, fries, house fry sauce

$15

Carne Asada Tacos

Local steak, corn tortillas, pico de gallo, guacamole, chipotle mayo, chips & salsa

$14

Cheese Curds

Ellsworth Creamery cheese curds battered and fried served with chipotle mayo

$8

Chicken Gyro

Free-range chicken, house tzatziki, tomato, onion, parsley, pita, fries, house fry sauce

$12

Chicken Sando

Free-range fried chicken or garde in, brioche bun, tomato, pickle, tartar slaw, chipotle mayo, jalapeno, fries

$14

Chicken Tacos

Free-range beer lime chicken or gardein, guacamole, chipotle mayo, corn tortillas, chips & salsa

$14

Chips

With salsa or with beer cheese or with guacamole

$7

Fish & Chips

Beer-battered fresh wild icelandic cod, house tartar, fries, house fry sauce

$20

Fish Tacos

Beer-battered wild Icelandic cod, house tartar, pico de gallo, slaw, chips & salsa

$16

French Dip

Steak, onion, provolone, garlic aioli, au jus

$14

Fries

Hand-cut twice-fried, house fry sauce

$6

Philly Cheesesteak

Local hoagie, tri-tip steak, pepper, onion, beer cheese, garlic aioli, fries, house fry sauce

$12

Pickle Chips

Beer-battered, chipotle mayo

$6

Pretzel

Huge pretzel, beer cheese, grain mustard

$12

Salad - House

Organic arugula & spring mix, tomato, pecan, dried cranberry, goat cheese, maple dijon vinaigrette

$10

Soup Special: Minestrone (vegan)

carrot, celery, zucchini, bell pepper, onion, basil, lime, balsamic

$6

Soup Special: Beer Cheese & Brat

gouda, sharp cheddar, Wolf Moon Amber Ale, local brat, bacon, balsamic

$8

Totchos

Carne asada, beer cheese, guacamole, jalapeno, pico de gallo, sour cream

$14

Totchos- Half Order

Carne asada, beer cheese, guacamole, jalapeno, pico de gallo, sour cream

$8

Vegan Buffalo Cauliflower Wrap

Panko fried cauliflower, onion, lime crema, pickle, tomato, slaw (Vegan)

$10

Vegan Burger

Beyond meat plant-based patty, vegan pretzel bun, guacamole, stout grain mustard, organic arugula

$15

Veggie Burger

Beyond meat plant-based patty, pretzel bun, cheddar, organic arugula, tomato, onion, pickle, garlic aioli, fries

$15

Veggie Tacos

Corn tortilla, mushroom, zucchini, cabbage, pico de gallo, lime crema, avocado, chips & salsa

$12

Wings

Baked and fried wings tossed in Nashville seasoning with your choice of sauce (chipotle honey, citrus buffalo or Nashville dry rub), carrots, celery, blue cheese, ranch or vegan lime crema

$12
Dessert
Dessert Pretzel

With cinnamon sugar pretzel bites, and stout cream cheese and caramel sauces

$8
Cider, Seltzer, Sake & Wine
The Bubbles

Underwood Wine. One can = half bottle.

$12

Rosé

Underwood Wine. One can= half bottle.

$12

Rosé Bubbles

Underwood Wine. One can= half bottle.

$12

Rosé Bubbles 250ml

$9

Pinot Gris

Underwood Wine. One can= half bottle.

$12

Pinot Noir

Underwood Wine. One can= half bottle

$12

MTN WST Ruby

A crisp 6.8% ABV hard apple cider for year-round enjoyment and everyday get-togethers.

$12

MTN WST Sweet Alice

This semi-sweet peach and turmeric hard cider packs a subtle bite and a well-balanced stone fruit flavor. 6.9% ABV

$12

MTN WST Desolation

Infused with prickly pear puree, this 6.9% ABV hard cider features a subtly sweet melon flavor and a unique, citrusy finish.

$12

MTN WST Cottonwood

A bold, dry, 6.9% ABV hopped cider blending rich red apple flavors with just a touch of bitterness.

$12

Gemini White Grapefruit Hard Seltzer

Made locally by RoHa Brewing Project, citrus leads out in this slightly tart Grapefruit Seltzer. Sparkly carbonation gives a strong mouth feel and a dry finish. Only 100 calories per can!

$6

Tsuki Sake - Junmai Daiginjo

Premium sake brewed with American-grown Yamadanishiki rice, "The King" of sake rice.

$12

Tsuki Sake - White Peach Nigori

Premium unfiltered sake, brewed with American-grown Calrose rice, infused with natural peach flavor.

$12
Cocktails & Spirits
Crush - Grapefruit

Vodka, Cointreau, club soda, fresh-squeezed grapefruit

$12

Crush - Orange

Vodka, Cointreau, club soda, fresh-squeezed orange juice

$12

Gin & Tonic

1.5 oz pour of local gin, house-made tonic

$10

Margarita

Fresh squeezed lime juice, tequila, Cointreau, organic agave nectar

$12

Old Fashioned

1.5 oz pour of rye whiskey, local Aromatic and Orange bitters by Honest JohnBitters, orange

$12

Evan Williams Single Barrel

1.5 oz pour. Try it mixed with a local Taproot Lemongrass Ginger Ale!

$8

High West Double Rye

1.5 oz pour

$12

Highland Park 12 Year

1.5 oz pour

$16

Vodka

1.5 0z pour of Tito's Handmade Vodka. Try it mixed with a local Taproot Soda!

$8

Gin

1.5 oz pour of Local Holystone Bosun's Navy Strength Gin. Try it mixed with a local Taproot Soda!

$8

Tequila

1.5 oz pour of Pasote Tequila. Try it mixed with a local Taproot Soda!

$10

Mimosa

Make your own mimosa! One can of Bubbles= half bottle!

$15

Beermosa

Choose your favorite beer!

$6
Kombucha & Soda
Taproot - Lemongrass Ginger Ale

Fresh ginger, lemongrass, and local raw honey. A mildly spicy ginger-kick accompanied by the bright

$5

Taproot - Blackberry Mint

Real blackberries and marion berry with organic spearmint for a healthy and nutritious beverage

$5

Taproot - Lemon-Lime Lavender

Organic lemon peel, lime, and lemon juice, with a subtle kiss of lavender and natural honey.

$5

Tap Root - Root Beer

A root beer that is exceptionally smooth with just a hint of bite. Slowly steeped with real ingredients

$5

Taproot - Strawberry Fields

$5

Taproot Soda Six-Pack Special

50%off build your ownsix-pack to-go

$15

Taproot Soda Four-Pack Special

50%apack of all 4 Taproot Sodas to-go!

$10

Mexican Coke

Made with cane sugar

$4

Diet Coke

$3

Coffee

Roasted locally by Mindful Coffee.

$3

Han's Kombucha- Pineapple Cactus Nectar

This kombucha showcases the bright, juicy, tropical flavor of fresh-cut pineapple and the exciting

$7

Han's Kombucha- Ginger Hibiscus

Zesty, sweet, citrus of the fresh ginger root. Tart with notes of cranberry and pomegranate.

$7

Nitro Cold Brew

10 oz of locally roasted and brewed cold brew by Mindful Coffee.

$5
Tap List
The Basic Witch

Our annual Pumpkin Pie Chocolate Stout! Made with actual pumpkin pies. Full-bodied and layered with spices, roasty malty notes, pie crust, and lightly sweet dark chocolate finish.

Campfire Smoked Lager

This is our version of a German Rauchbier. Local cherry-wood smoked malt from Solstice Malt adds a distinct smokiness with some light crystal and aromatic malts to give it a nice malty backbone and crisp finish.

Chili Mangose

Pronounced "mane-goh-zuh", this gose-style ale is soured naturally with lactobacillus; we then add sea salt, coriander, and chili powder into the boil. Mango puree, roasted jalapeño, and dried chiles are added to the fermenter. The peppers provide a slight smoky, spicy aroma and a delicate spice on the palate. Mango gives the impression of sweetness and the tartness melds beautifully with the salt. Brewed with 100% local malt from Solstice Malt.

Deseret Dunkel

This is our version of a Munich Dunkel. The aroma is malty, sweet and bready, while the flavor profile is rich and complex, displaying notes of chocolate, and graham cracker. With minimal bitterness, the flavor is reminiscent of Golden Graham cereal. A delicious dark lager without the roasty character of a stout or a porter.

Märzenhead

Our take on märzen/Oktoberfest German lager, featuring a light amber color, with a malt-forward flavor full of toasted bread and slight caramel notes.

NAIPA

Not-Another-IPA. Pronounced Nye-Puh, Nay-Puh, or en-ei-eye-pee-ei. Doesn't matter. A classic homebrew recipe of Chad Hopkins, this New England-style is double dry-hopped with Citra, Mosaic, Centennial, and Cascade to give it a glorious aroma and flavor of tropical fruit, fresh-squeezed juice, orange peel and a touch of bitterness from Zeus hops. We use local Solstice Mild, red wheat, flaked rye and a touch of Aromatic Malt to give it a light malty backbone.

Old Merchant Cream Ale

This is one of Chad Hopkins' classic homebrew recipes brewed for his English friends and was a staple on the ol' homebrew kegerator. Originally called "Old Wanker", this cream ale has a nice light biscuit flavor and aroma with a mellow sweetness from flaked maize and finishes dry. Late-addition Cascade hops contribute a delicate citrus flavor and aroma. Served on nitro (not available to-go).

Wolf Moon Amber Ale

Our Wolf Moon Amber Ale provides a glorious display of various malts and a healthy dose of hops. The malts bring out biscuit, caramel, honey, burnt sugar, and dried fruit flavors with a dry finish. The hop profile brings floral, citrus, stone-fruit, and piney notes.
Guest Beers
RoHa Brewing: Thursday IPA

Brilliant gold with a dry, distinctive hop finish. 6.5% ABV

$7

SaltFire: Frankly Mr. Shankly

This NEIPA exploits juicy citrus notes while shying away from the bitter ones, giving you a silky mouthfeel exploding with grapefruit, orange, lime and passionfruit flavors with a natural haze to match. 7.1% ABV.

$11

SaltFire: Dirty Chai Stout

Perfectly not too sweet, this Dirty Chai Stout is every coffee and beer lover's dream in one highly drinkable beer. 6.7% ABV

$11
Available Sat/Sun 11 am - 2 pm
(also available Monday holidays)
Brunch
Avocado Toast

Sourdough, guacamole, arugula, goat cheese, cherry tomato, balsamic

$10

Breakfast Burrito

Sausage,bacon, steak, or veggie, wheat tortilla, cage-free egg, tots, cheddar,pico de gallo, chipotle mayo

$12

Breakfast Sando

Brioche bun, sausage or bacon, cage-free egg, cheddar, chipotle mayo, tots

$12

Breakfast Tacos

Corn tortilla, cage-free egg, local bacon, pico de gallo, guacamole, cheddar, salsa, breakfast tots

$12

Veggie Breakfast Tacos

Corn tortilla, cage-free egg, mushroom, zucchini, bell pepper, pico de gallo, guacamole, cheddar, salsa

$12

Chicken & Waffle

House batter waffle, free-range chicken or gardein, local bacon, cage-free egg, maple syrup

$14

Poutine

Hand-cut fries, sausage, local bacon, onion, bell pepper, gravy, cheese curds, cage-free egg

$14

The Tradish'

Cage-free egg, local bacon, breakfast tots, sourdough toast

$12

Bloody Mary

1.5 oz vodka, celery salted glass, olive, pepperoncini, jalapeno, celery, topped with beer of choice.

$9

Nitro Cold Brew

10 oz of locally roasted and brewed cold brew coffee from Mindful Coffee.

$5

Coffee

Roasted locally by Mindful Coffee.

$3

Beermosa

Choose your favorite beer!

$6

Mimosa

Make your own mimosa! One can of Bubbles = half bottle!

$15

Fresh-Squeezed Orange Juice

$8

Fresh-Squeezed Grapefruit

$8

Orange Juice

$5